Allentown Cape Gets 3 Zones of Comfort Case Study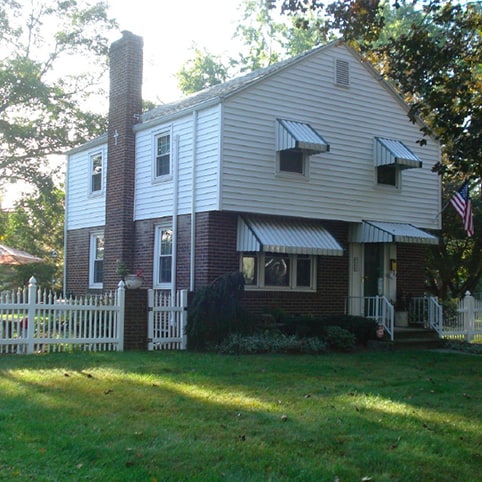 This lovely cape-style home in Parkway Manor, like many of the homes in the area, didn't have central air conditioning. The homeowners were tired of trying to get by in the summer with window air conditioners. Window units are a pain to put in and takedown, tying up two weekends of your year, and there never seems to be a perfect time to do it- put the units away too soon, and you swelter during the early fall heat waves; wait too long, and freeze when getting a cold snap. Then there's the expense to run them and the noise, and it's not surprising that homeowners in Allentown are looking for a better solution.
Problem: This older home didn't have central air conditioning forcing the owners to rely on loud, expensive window air conditioning units.
Solution: We installed a 3-zone ductless system that helps the owner to better regulate and customize their comfort all through the convenience of a remote control all while saving money on energy bills.
The homeowners gave us a call to see if we could solve this problem for them. Adding ductwork to a home like this is expensive and impractical, especially when other solutions, like Carrier ductless heating and air conditioning, are available. Ductless systems work by attaching a heat pump unit outside to indoor wall units that can act as both heating and air conditioning systems, although you can also get units that are just for air conditioning. The wall units all operate independently from one another, each one creating a separate zone of heating and cooling, and allow you to better regulate and customize your comfort, all through the convenience of a remote control!
When we spoke with the homeowners, we suggested that they could benefit from three zones of comfort- one to help keep the downstairs comfortable, and two upstairs to maximize comfort in the bedrooms. Carrier ductless is known for being whisper-quiet, so it's a perfect solution for downstairs in the family room, and the bedrooms. No more loud, clanking air conditioners rumbling in the background- and no more hot and cold spots in a room either! The carrier ductless wall-mounted units do a great job of distributing air throughout the space, making sure there aren't pockets of hot and cold air, but instead, a steady, comfortable temperature throughout!
The ductless units monitor the temperature and humidity throughout a space and use a variable speed function to make sure that the temperature in the room remains constant, unlike traditional systems that tend to turn on and off with wider swings in temperature. This system also reduces energy consumption and helps make these systems incredibly energy efficient. As a result, PECO and other rebates are available, because these units can really help save energy and the environment! Our homeowners qualified for a $500 rebate, helping make the installation of three zones of comfort in their home even more affordable.
Best of all, the energy-efficiency of carrier ductless means that the family will save money. Each of the zones, operating independently, can be turned on or off as needed, meaning you don't have to worry about cooling the living room while you're asleep upstairs- and vice versa meaning you are only spending energy for heating and cooling right where you need it. Between this and the efficient heat-pump inverter technology, homeowners can see significant savings in their monthly energy bills from when they were using window units. And if they use the units for heating as well, we've had homeowners report that they can save almost 40% on their energy bills compared to other modes of heating- something any homeowner can surely appreciate!
Best of all, the Carrier ductless units work well even when it's -22F or 125F outside- temperature extremes we don't even see here in Allentown! Compared to heat pumps in the past, these new units can handle extreme temperatures and provide cost-effective heating and cooling at the same time, delivering year-round comfort for the whole family.
If you need air conditioning or supplemental heating for those hot and cold spots in your home, give us a call here at Werley's. We're happy to talk to you about the options available, and how ductless might provide the perfect quiet comfort solution you've been looking for!