Allentown Colonial Case Study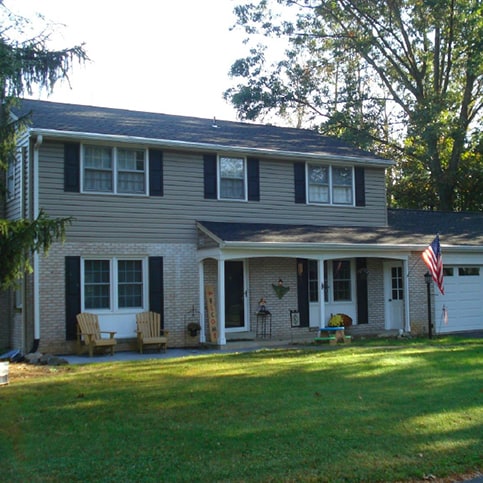 This great colonial-style home in Allentown had a problem- there was no air conditioning system, and our summers seem to keep getting more hot and humid each year. The homeowners had been relying on window units to provide some relief, but they just weren't able to keep up and they were super-expensive to run, driving up energy bills.
The homeowner was talking to a friend who had used Werley's to install a Carrier ductless system for them, and began talking about how amazing it was, providing the cooling they needed and they no longer had to dedicate a weekend twice a year to mess around with those awful window units!
The homeowners gave us a call here at Werley's to see what we would recommend and if we could use ductless to help keep the whole family comfortable- provided it would be a cost-effective solution.
Problem: Homeowners had no air conditioning in the home, and they wanted to get an energy-efficient, cost-effective solution to get the comfort they craved.
Solution: A five-zone Carrier ductless air conditioning system will provide the homeowners with perfect comfort at the touch of a button, and they will be able to customize the comfort in each area as needed.
When we went out to see the homeowners, we knew they were interested in ductless. For a home like this one, the question usually becomes one of how we can give them the comfort they need right where they need it most. Carrier's ductless heat pump systems are terrific, and they are expandable. One outdoor heat pump can support many indoor units - and each indoor unit is controlled independently! This means even though there is a common outdoor heat pump, you can keep the living room one temperature, while you have the bedroom at another temperature, and have the family room another temperature as well- all customized to their use, and that means you can also save significant money by not cooling spaces that you're not using!
Many homes like this colonial in Allentown were built without ductwork, so installing a "Central" air conditioning system either requires significant construction and trying to retrofit ductwork into a home or finding another option altogether. That's why the ductless heating and cooling systems were developed- so that areas of a home or business without ductwork could get the comfort of central heat and air. And, as an advantage over central heat and air, ductless makes it easy to create separate zones of heating and cooling, and allows you to control not only your comfort but your energy bills by only having to heat or cool the areas of your home while they are in use. This can add up to significant savings, something every homeowner can appreciate!
The family wanted to ensure their whole home was comfortable, so we suggested creating a total of five zones, covering the common spaces of the home and the bedrooms. Because these systems are so quiet, Carrier ductless can provide you the perfect comfort you want, and you'll never have to turn up the TV or lose a moment of sleep due to a noisy, clanking air conditioner ever again.
Because these units are so energy efficient, they qualify for energy-saving rebates from PECO and the Commonwealth. Our homeowners qualified for $1,150 in rebates for upgrading their home comfort with Carrier ductless, making adding additional comfort to their home even more affordable.
Now our Allentown homeowners in Parkland will have the comfort they want, all year long, in every part of their home. They will also save money in energy bills by adding this energy-efficient system, lowering energy bills while also helping out the environment at the same time! That's a recipe we can all follow.
If you're interested in learning more about how Carrier ductless might be able to help you become more comfortable while lowering your energy bills, give us a call here at Werley's, and we'll help you design a system to provide you with quiet comfort year-round.